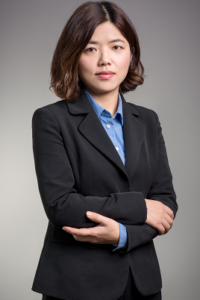 Kitty KIM    Attorney-at-law/ Partner
Mobile:(86)139-1742-1790
Email:
With over 8 years working experience in Japanese-invested enterprises, Ms. KIM has a deep understanding on the corporate culture of Japanese-invested enterprises, problems existed in management, and so on. Ms. KIM is good at analyzing the situation of each company, finding out the root of problems, and providing specific solutions, based on which Ms. KIM leads the team to provide "CENTRALIZED CUSTOMER LEGAL SERVICE".
Ms. KIM has a strong team. All the main members have comprehensive knowledge and varied practical experience. In addition, Professor Hiroshi KATO who is the Professor at School of Law and Graduate School of Law at Nihon University, and the patent agency, is our Senior Counsel, and he provides professional advices to us for specific legal issues.
The team focus on the corporate legal counsel IP, anti-unfair competition and so on.
Corporate legal counsel: To provide legal counsel service to several companies and enterprises in different industries.The legal counsel service mainly includes issues related to employment, risk management and so on.
IP: To provide IP legal counsel to several companies and enterprises. In addition, the team has served many clients for the litigation and non-litigation issues concerning Trade Secrets, Patent, Trademark and so on. The team has numerous practical experience in formulating Trade Secrets management system and dealing with individual cases.
Unfair-competition: To represent clients in dealing with IP related unfair competition cases, including Copycat Brand", propagandizing false advertisement and those cases which combine IP infringement with unfair-competition. The team is good at providing effective and specified solutions case by case.
We Endeavor to Provide Centralized Customer Legal Service